Why Measure?
Recently, I was asked in an interview "Why do you measure data?" Below, is an excerpt from that conversation. It is my hope that you find it informative and helpful.
Question:  Why do you measure data?  Why is it so important to the continued success of VisionWise Capital's (VWC) Investors?
Answer VWC:  Peter Drucker was quoted saying: "What gets measured, gets managed." At VisionWise Capital, this has become part of our culture. It is a key driver for reducing investment risk, as well as for our primary focus, which is to manage risk-adjusted profitability for our investors.  Being a reliable steward is paramount, and measuring every aspect of our processes from drywall installation to investor happiness pays off for our investors – literally.
Question: What does it mean to "effectively use data analytics" to measure and manage success?
Answer VWC:  We are data-driven in every way, particularly in time and money. Consider construction management as an example: we measure the number of days, unit-by-unit, that it takes to fully renovate a property.  As we shorten the number of days that the unit is in transition, we optimize the number of days in which we can have a paying tenant.  Think about it this way: for a 12-unit building, at an average of $75 per day, per unit of rent, if we reduce the turn-time of each unit by just 7 days, the added income from the property would be $6,300.  That may not seem like a ton of money, but when a buyer looks at our Net Operating Income, this small increase of rent represents about $180,000 in value1.  This keeps our returns to Investors not just high, but maximal. By being so diligent about measuring, we know how many days it takes for the materials to arrive; we know our labor costs—down to the penny; we know the per-square-foot cost of the flooring, the cabinets, and the install of new windows.  The emphasis on these details keeps us effective, efficient, and ahead of the competition.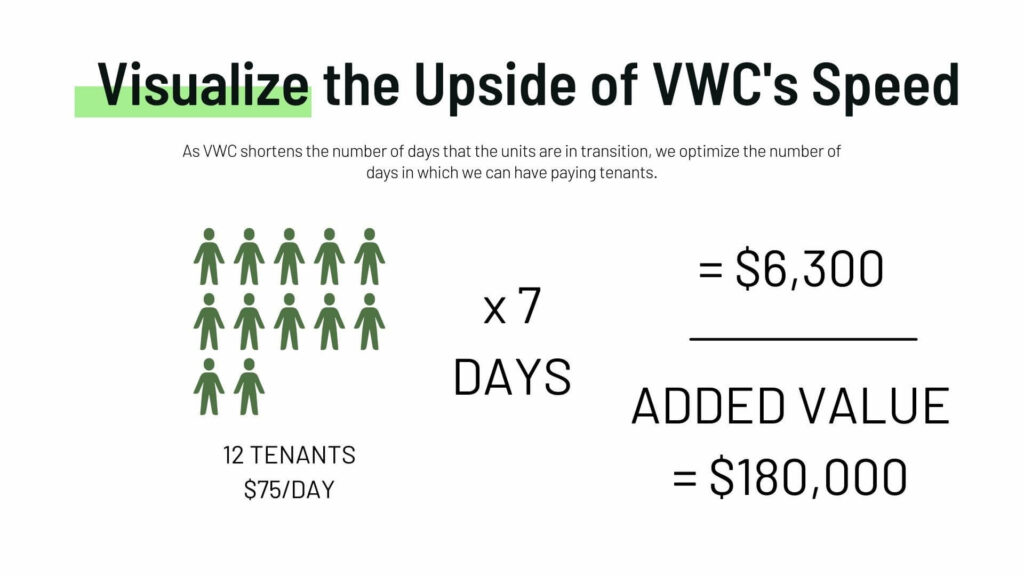 Question:  How do the measurements help you differentiate VWC in the eyes of your investors?
Answer VWC:  One differentiator is we live in the data. We are practiced in the use of some of real estate's most robust management software used by institutional private equity firms, such as Yardi. We are setting our sites on becoming the benchmark for commercial real estate Sponsors in the area of efficiency and profitability.  This speaks to my initial point of being the best steward for investors.  As we pay attention to the risks, what-if's, and the minutiae of real estate investing, there is likely far less profit lost in the "leaks."  If you analyze your data sources and stick to thoughtful benchmarks in all you do, your investors will reap the benefits again and again. From personal experience, I know this level of effort at VWC is what gives us a clear conscience when communicating with our investors.
Question:  To confirm, scrutinizing your operating processes helps VWC optimize real estate returns thorough measurement?
Answer VWC:  If turnaround time forces you to "miss" a day of rent at $75, this problem exacerbates over time. That $75 is $150 on Day Two, $300 on Day Four, snowballing from there. It quickly adds up to thousands in lost profits, and hundreds of thousands in valuation. Again, employing proper measurement quickly finds a leak that then leads to actions that lead to success.  Therefore, knowing the numbers and hitting them minimizes the investment risk.  And measuring progress provides a positive sense of direction for our Investors.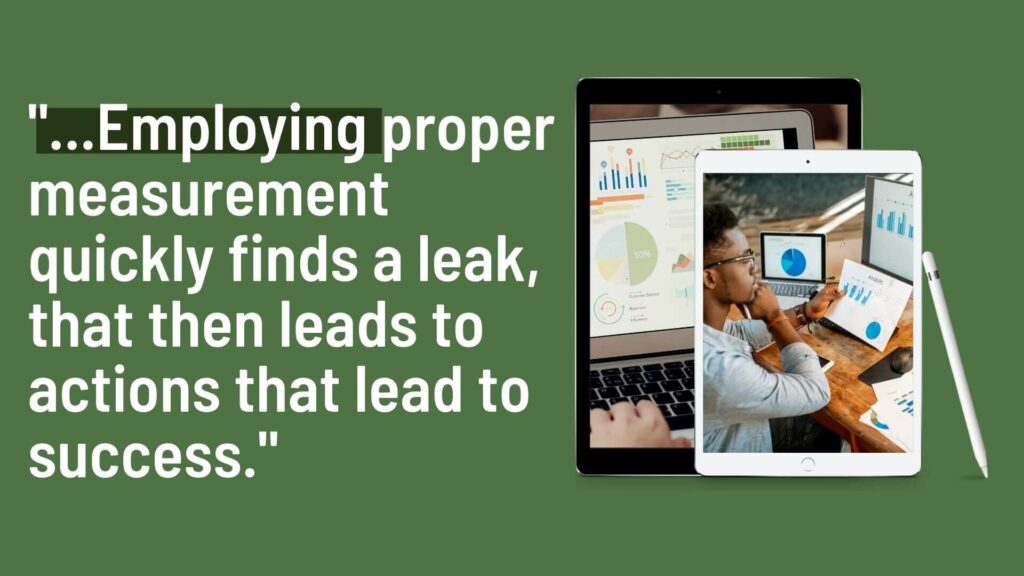 Question:  How do you transition a client's mindset from "risk-weary" to investment-ready?
Answer VWC:  Specific knowledge is one of the greatest risk minimizers.  I have said this many times in the past, "The greatest risk in real estate is the way you finance the structure of real estate."  It is most often not the real estate itself. I began measuring the inherent risks of my real estate strategy when I founded VWC. Establishing the Great Recession as my reference point, I was determined to be honest about how to navigate through (or around) foreseen and unforeseen market cycles, like general economic downturns.  And during that time, based on an honest observance of the data, we minimized our loss exposure from the 2008 stock market calamity.
Question:  What is the danger in not measuring the data?
Answer VWC:  If you do not measure the data, the domino effect is like a snowball at the top of the mountain. Overpayment for services rendered, untimely turnovers for tenant improvements, and a delayed leasing campaign is not only a drain on capital, but ultimately it impacts the returns for our investors. If you do not measure properly, you can potentially lose control of the property.  I consider being a good Steward for my investors an immutable part of my duties. If we were to choose an easier path and relinquish the work for which we are capable, such as collecting and staging the data, and then building models to measure what is relevant, it would not serve our investors and would seem to me inexcusable. My philosophy? Make the right decisions from sound principles and analysis, coupled with wise counsel, and you will be able to anticipate and successfully navigate most of the market cycles in your niche to a positive outcome.
VisionWise Capital possesses the market-leading experts on determining accurate and actionable intelligence about your real estate investments. We are ready to help you make successful investments by unlocking the power of commercial real estate. Contact us today at sanford@visionwisecapital.com to set up your informative consultation.