Cut The Plate In Half
By Sanford Coggins
 After Super Bowl LV, my sons and I were making our own decision of whether Tom Brady is a GOAT (Greatest Of All Time), or is he "THE GOAT"? Watching the poise, athleticism, and the seemingly upstanding character of the person certainly swayed the vote. Brady's ability to throw a football 40 yards down field to an unoccupied location only to meet his receiver just as he arrives in the same place is a gift. I know this because I have been around gifted athletes before, who found their niche in life and leaned into it…but Brady is the package. What we intuitively know about Tom Brady is he said an all-in "yes" to football but must have said "no" to countless other opportunities. 
My brother played baseball for the Baltimore Orioles organization. Three years before Rich Coggins was drafted to Baltimore, the 1970 Orioles won the World Series against the Cincinnati Reds 4 games to 1. Rich was pulled up from Triple-A in 1973; a left-handed outfielder who, in his first year in the big leagues, finished sixth in voting for the American League Rookie of the Year Award. In five seasons, he played in 342 games and had 1,083 at bats, 125 runs, 287 hits, 42 doubles, 13 triples, 12 home runs, 90 RBI's, 50 stolen bases, a .265 batting average and a .312 on base percentage. Defensively, he compiled a .986 fielding percentage at all three outfield positions.1. 
Well, that first summer, Rich took me with him to Baltimore. I had the privilege of being the batboy, shoulder-to-shoulder with the literal Hall of Fame lineup of Jim Palmer and Mike Cuellar on the mound, Brooks Robinson at third, Bobby Grich at second, Boog Powell at first, Mark Belanger at short stop, Paul Blair in center, Al Bumbry in left field, and Earl Weaver as the team's Manager. It was an off-the-chart experience. Serendipitous indeed, but I received it as a gift given from heaven through my brother. I have learned that when given a gift, be thankful for its appearance and thoughtful in its use. At that point in my life, my brother was the GOAT. 
I remember warming up with the team. Shagging balls in the outfield, and now and then getting to swing at a few speed-reduced pitches at the plate. One of the many long-lasting lessons I learned that summer was to "cut the plate in half." It was a way of saying, pick that part of the strike zone that you hit best, and leave the rest for the pitcher to try and hit three times in a row. My brother shared this with me as a discipline that made it feasible for him to hit 95 mph fastballs with only 4/10's of a second to make a swing decision. 
I have adopted that principle in several areas of my life: I apply it to how I spend my time; how I choose which charities to support; how I set up my next golf shot; and even how I built out the roles of each Team Member at VisionWise Capital. When I apply the principle of "cutting the plate in half" to business, it runs consistent with the discipline of "staying in your lane," or "narrowing your niche." We have done that at VisionWise Capital, and done well by staying in our lane, by not being lured into someone else's strike zone, but being crystal clear on what we will hit; 5-to-50 unit apartment properties in Orange County and perimeter cities that are old, unattractive (ripe for rehab) and have a history of being fully occupied. Anything outside of our "strike zone" is allowed to pass by. 
I have also learned that people too often try to hit everything thrown at them. Every problem that belongs to someone else, every news headline that gets them upset, every task that is not theirs to perform. Some people are overwhelmed by saying "yes", as though it's wrong to say "no" and not swing at every pitch. There is freedom in knowing the boundaries of your "strike zone", being clear about what your pitch looks like, the one you have the knowledge and wherewithal to hit. I believe pursuing this discipline will result in you being a GOAT in someone else's eyes.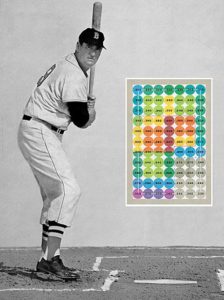 One final emphasis to this point is Ted Williams who used this same discipline in the 1960's to become known as "The Best Batter Ever". He finished his playing career with a .344 batting average, 521 home runs, and a .482 on-base percentage. He was also a GOAT. Williams was inducted into the Baseball Hall of Fame in 1966, in his first year of eligibility, and has a quote attributed to him saying "..it can be in the zone, but not in your zone." 
Apply yourself to you winning your own "super bowl". Identifying life's strike zone for you, shaped by your passion and your strengths. Onward! 
1. Wikipedia

 
2. 

Career was played primarily in what is known as the "live-ball era."